Time:2014/3/9
Visit to WinPower Group
by American Think Tank Delegation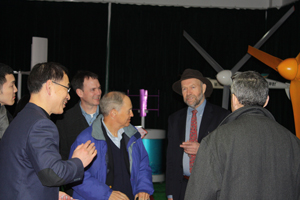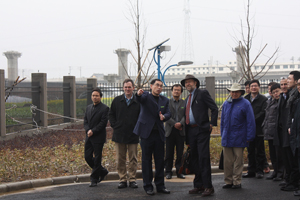 A high level American think tank delegation, led by Robert Daly, director of Wilson Center's Kissinger Institute on China and the United States, paid a visit to Ningbo WinPower Group on February 26, 2014. Some of the VIP delegation members were, Dr. Kenneth Lieberthal (former Special Assistant to the President for National Security Affairs), Professor James Hansen ( former head of the NASA Goddard Institute for Space Studies from 1981 to 2013, who is also hailed as "the father of global warming study " ) and Donald Shriber (Deputy Director, Center for Global Health). The delegation was accompanied by government officials from the State Council of China including Ren Fangning (Deputy Director of the Councilors' Office), Qiao Zonghuai (ex-deputy foreign minister) and Wang Hongping (Ningbo Municipal Deputy Secretary General).
The guests visited the Group's production base and show room with interests while being briefed on wind-solar energy theory and applications. Congratulations were extended on what WinPower Group had achieved in developing new power technology, and a discussion followed mainly focused on off-grid wind & solar hybrid power generation.
Contact Information
Add: 128, Xianghe East Road, Yinzhou Distric, Ningbo, 315100, China Sales: +86-574-87881781
E-mail: winpowermkt@163.com Http://www.chinawinpower.com
Copyright ©Zhejiang WinPower Energy Conservation Technology Co., Ltd.